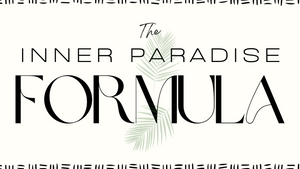 The Inner Paradise Formula Starter Kit
𝑫𝒊𝒅 𝒚𝒐𝒖 𝒌𝒏𝒐𝒘?
Giving yourself the gift of inner peace can grant you:
An Insane Sex Life
A Healthy & Abundant Money Relationship
Deeper Connections with Yourself & Others
Ability & Tools to Confront and Release Negativity
Insane Self Confidence
An Unwarped Self View
Unlocked Creativity
A Heightened Sense of Adventure
Deepest desires as a reality & Much More....???
Do you crave clarity and have no idea where to start? Are you feeling like you're repeating the same life cycles over and over again? Are you using vices to numb yourself because the "map" isn't matching the actual "site" when it comes to your desires?
This kit will do a step by step on how to begin your healing journey, how to use emotions to your advantage & How to give yourself the space and attention necessary to reach the inner peace you absolutely deserve.
Click the link below >>>>>>
https://theinsidecode.teachable.com/p/the-inner-paradise-code-masterclass